Why do I need to MOT my car?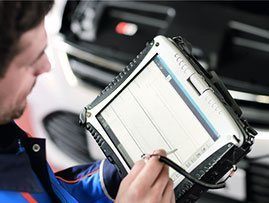 If your vehicle is three years old or more, you'll need an MOT test every year. The MOT is a thorough safety test of your vehicle and also checks your exhaust emission levels.
If you don't have a valid MOT certificate, you're breaking the law. In addition, you won't be able to buy car insurance or renew your road tax. It is up to you to ensure that you have your vehicle MOTd every 12 months
We're an approved MOT tester and are accredited by the Vehicle and Operator Services Agency (VOSA). This means that we can test your car against the specified MOT criteria and either pass it as safe, or not. The MOT assessment is based on your car on the day you bring it to us. As well as deciding whether it meets the standards, we'll also let you know about any 'advisory' items that have passed the test but that you'll need to attend to in the future.
You don't have to wait until your exiting MOT has expired. You can have your vehicle MOT tested up to 28 days in advance of the date it is due. Your MOT is valid for 12 months from the expiry date of the previous certificate.
Find out more about MOTs or click below to book now.